Abucuma's Report
On the first day, when I and Sani arrived in Abukuma, Ponta San cooked for us for dinner - delicious Okonomiyaki. We were tired and hungry and immediately fell into a warm family atmosphere. It was wonderful! But then we had a hot shower, but in a very cold room). To this we quickly got used, as well as to the heater.
Our main duty was to take care of animals - goats and chickens. With the goats so closely I communicated for the first time and was afraid of Yuki, who tried to cheer me up, and sometimes even bite. It's a pity, that there were so few chickens. Ponta san said that they were eaten by wild tenten. One day I saw two big tentens climb the wall in a barn to animals. But while I was calling Ponta san, they were already hiding somewhere in the straw.
Also twice a day we walked with Gonta and Marou. I usually walked with a very active Gonta. That is why, I perfectly remember the Japanese word "Dame". Gonta always tried to run away to somewhere or eat something.
At first time we helped to remove the fallen branches of trees. And also chopped wood once. It was difficult to cut wet logs. A few days later, Ponta San and Dai Chan began to cut down the trees, and we collected large branches and logs in heaps.
A few days later, four children arrived. It was very fun to play and we cooked a delicious pizza together. And I also tried curry with rice in first time. I ate two plates (onaka ippai).
We also went to primary school. Children were communicative and active. I almost did not understand them. However, we played and drew together. Children give many of my portraits) The floor in the classroom was very cold and my feet were always freezing, but the children were comfortable.
The next day, Yumiko San cooked delicious Chirashishushi. Before that, I thought that sushi is only of one kind)
Next day we went to the exhibition, where Ponta San presented his new book about ways of survival. The exhibition was very interesting. And the building too, was with a permanent exhibition about tragedy in Fukushima 1, alternative ways of obtaining energy, caring for nature. I remember the game about the separation of garbage. I, of course, could not win) Especially remember the movie about the 1 nuclear accident and what was after. The video was shown inside the sphere, where the image was everywhere, from above, and from below. It's amazing!
And on Sunday, we with Dai chan and It chan went to the park in Shirokawa. The park is very beautiful and there are a lot of fun attractions for children. And even there were tablets with pictures, where the rules of the game were explained. In the evening Ponta San at our request prepared takoyaki. Oishi!
On dayly we helped to dig strawberries in the greenhouse. In general, it is surprising that in the winter here in the greenhouse grows so much greenery that we ate every day.
We also went to visit Ozawa san. Wonderful kind people. They have a very old and interesting house. They also showed us their sheep and peacock (!). In the first saw a peacock at someone's house) Ozawa-san gave me and Sani some beautiful feathers.
On our next day off we went to the Aquarium in Iwaki. I was in the first one in such a large aquarium. And here there were also open aquariums with natural environment trees, stones, etc. And also very large aquariums with sea lions. This is the best aquarium!
And the next weekend Ponta San drove us to Nikko. We visited the castle of Shogun Tokugawa. Very beautiful place with painted walls and ceilings. A lot of wood carvings. It is a pity that there are so few halls in the castle that you can see. And in the evening we went to eat sushi. The restaurant has a fun service system. Food is delivered on controlled machines! We were delighted! Sushi here is inexpensive and with lots of fish and with other seafood. Not as in Russia - for a small piece of fish, a great price.
After, Sani and I cooked our traditional dishes for dinner. I made a salad of Mimosa and Varenniki with potatoes. I'm glad that everyone liked it)
The day after Sani's departure, children came to us from the evacuated district of Fukushima and we all cooked pizza. And I also helped Yumiko san cook bread. Pizza and bread cooked in Obon the most delicious!
When it was time for the children's camp, I was a little worried. Because I did not know what will be. Also, several more volunteers had to come. As a result, I was in vain worried. Everything was fine! We all played together, cooked, fed animals and walked with dogs. I especially remember how we played football (I hurt my leg a little, I really wanted to win) and how we cooked the Mochi. It is very funny! True Mochi taste is unusual. Ini did not like it. I liked to eat Mochi with Kinako. Many wonderful memories and new friends who call to come to Portugal and Thailand)
After the end of the children's camp, we all went to the border of the evacuated and still closed area of Fukushima with a stop in the park, where we ate lunch and admired sakura. The evacuated zone looked little scary and sad, like a ghost town. And on the way back Ponta San stopped next to the police station. Where as a monument stands the broken police car of the hero-policeman, who helped evacuate people and died from the tsunami.
And the next day a Ponta San and Yumiko san's daughter and grandchildren (kawai) came to Abukuma. And we all went to Inavashiro Lake (there was still a lot of snow in April) and to the Tsuruga jo Castle. A beautiful castle with a centuries-old history. Sad sakura has not bloomed here yet. But still all were satisfied)
The next morning all the volunteers left. At once it became a little sad. But not for long, because at lunch we all cooked pirojki) Was very delicious!
And then it's time to prepare for planting rice. We showered the earth with special boxes that made them in rows, closing them from drying out.
A few days later Ponta San suggested that we go to look at Takidzakura very old and beautiful. We walked along the hill, and then we visited to the tea ceremony. We sat in a small room, and I watched closely how to make tea. This is a complicated process! The tea itself is bitter for me, but with a sweet candy in the shape of an Sakura flower, I drank the whole portion. Then was a tour of the old house. The house is very beautiful, but cold even in April. And how did people live without a heater !?
Then we planted a few days. First planted potatoes, and after rice. We used a special machine for planting rice, but it still takes a long time. And then I knew that Ozawa san did in 400 times more than we are. It's incredible!
The next day I met Sari san. We sat in a restaurant, where they themselves roasted meat. But besides the meat, they brought us soup, vegetables, and dessert. Portions are very large, but tasty, so we ate everything). After Sari san invited us to her home. House with excellent design in French style. Sari san treated us with tea and cake and played on the electronic organ. So many keys I have not seen yet! Both hands and feet are constantly working) We had a wonderful time.
Ponta san and me also visited the admission ceremony in high school. In my opinion, it was more frightening than a solemn event. They all have serious faces and a strict ceremony. A great responsibility was felt. In Russia everything is simpler. First, all schoolchildren from the 1-11 year of studding stand in the stadium 30 minutes and listen to the teachers, then the bell rings, and everyone is went into classes.
And then was an exciting trip to Craft House. Virtually everything in the dining room was hand made from wood. Imaru san showed me how to make a wooden cup, but it was not easy for me. But I liked to spin sheep's wool (it is very soft).
When Imaru san came to visit Ponta San, they gave me two beautiful wooden cups and sticks and a skein of yarn. It was very nice. Therefore, when we went to visit them again, I cooked apple olady. I again spun the wool, and Ponta san and Naga chan worked with the tree. Naga-chan was very happy.
Even when the field was plowed, Ponta san entrusted me with driving of the tractor. It was very interesting and fun! The day finished quickly.
On Golden Week, the children came to us again. I was glad to see them again and meet new friends. And on May 4, there were also a lot of guests and everyone was cooking pizza. Yumiko san said that 47 pizzas were cooked in one day. We all were tired)
On May 6, we all went to see Goshikinuma. A very beautiful place. Wonderful azure, green and blue ponds. And the weather was great too. We ate lunch on the shore of one pond. And in the biggest pond, a lot of people went boating.
As a result, three months passed too quickly. Because the work was interesting, and a lot of trips (thanks to Ponta San), and the food is delicious (thanks to Yumiko san), and lots of new friends, and great memories.
Origato godzaimashita Ponta san to Yumiko san

ぽんた学長です。
ロシアからはるばるNICEボランテイアであぶくまエヌエスネットに来てくれた「ナスチャ」が本日がラストとなりました。
上記が今までの彼女が心にとめたレポートです。
英語なので、ゆっくりでも良いので読んでみて下さい。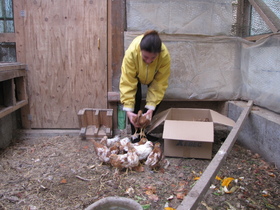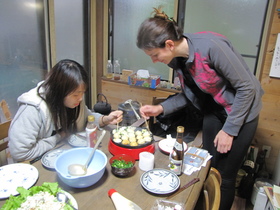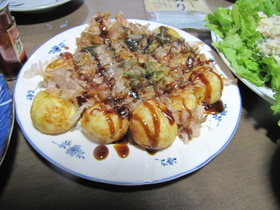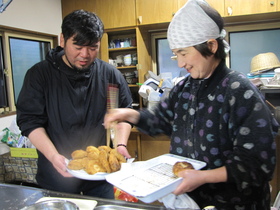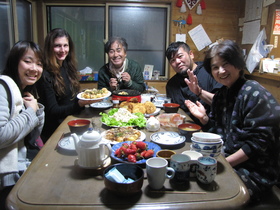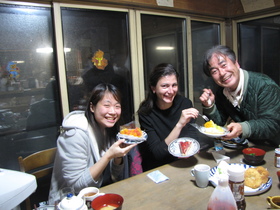 夕食は、ナスチャを囲んで「ナスチャありがとうデイナー」でした。
リクエストメニュー「コロッケ・たこ焼き・おからサラダ」デザートは、みさきがナスチャのために〜と奮発して買ったスペシャルケーキ


一同お腹いっぱいになりました。
ナスチャはあぶくまが1番寒い時期に着任!!いきなり山の環境整備の仕事でした。
子どもともたくさん関わってくれました。冒険ひろば・ぽんた山・・・
初の日本ということもあり、お休みを活用して日光・いわきの桜・三春の桜・白河の桜・・・会津のお城・裏磐梯〜たくさん行きました。
冬から春へ〜季節の移ろいもたくさん感じてくれました。
また日本に来たいと言ってくれました。
それだけでも良かった!!と・・・彼女の心にあぶくまの一つ一つが生き続けてくれると私も嬉しいです。
明日早朝4:45には出発です。
ナスチャ〜たくさんありがとう